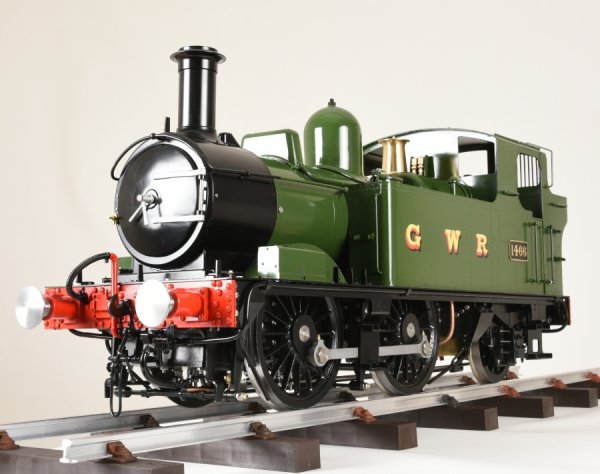 GWR 14xx CLASS


New and upgraded...

In 2015 we proudly announced the launch of our first ready-to-run 5" gauge model - the GWR 14xx Class. With 100 units sold this remains, to this day, the most popular model we have offered. The original design provided a model that looked great and ran well. However, we are always striving to produce the perfect model and to this end we are re-launching the 14xx Class with a number of upgrades to include bronze cylinders, mechanical lubricator, injector and working steam brakes. In short, we have made a very good model even better! We are pleased to offer you an opportunity to acquire one of these models from our small batch production in 2020.


Hand-built to order...

Since founding the business in 2010 we have supplied over 700 live steam models from 2.5" gauge through to 7.25" gauge. More than half our customers have already purchased a further model (some a dozen models, or more!). Each model comes complete with a silver soldered copper boiler, tested to twice working pressure, and is assembled by hand in the traditional way, taking up to 250 hours to build. Models are built against a firm customer order only and
we have presently booked workshop capacity for the production of just 25 models. Your model will benefit from a 12 months warranty.






GWR 14xx CLASS -

length 32"

Sealed roller bearing axleboxes

Bronze crossheads

Steam brakes

Stroudley Type regulator
Summary Specification


Silver soldered copper boiler

Brass body

Superheater

Two inside bronze cylinders

Hand-pump and Crosshead pump

Injector

Mechanical lubricator

Reverser

Customise your model....

It is always nice to own a locomotive that is unique to you. To this end we are happy to offer early orderers the opportunity to choose the livery of their choice and select the locomotive number. We will not manufacture more than five models with identical livery, number and emblem, so if you have a particular favourite in mind don't delay placing your order reservation. Ninety-five of the Class were built following the locomotives introduction in 1932, so you have a wide choice.


| | |
| --- | --- |
| BR Lined Green Version | BR Lined Black Version |
Choice of liveries and the perfect size for indoor display



Delivery and Payment Arrangements.....

Save £195.00. FREE p&p if you order within 28 days...

As a thank you for placing your reservation within 28 days we are happy to offer you free p&p worth £195.00.





Outstanding value..

Priced at just £4,995.00 + p&p this high specification model offers outstanding value-for-money. You can reserve your model now for a deposit of just £995.00. We will ask for an interim payment of £1,500.00 in August 2020 as the build of your model progresses, a further stage payment of £1,500.00 in September and a final payment of £1,000.00 in October 2020 before delivery.


Request your free brochure today..

By e-mail: info@silvercrestmodels.co.uk
or call 01327 705 259.


Order Reservation/Checkout Section

To place your order reservation and pay the deposit of £995.00 now
please use order section below.

You are welcome to make payment by credit/debit
card, bank transfer, or cheque.



Prices and Shipping Worldwide

We are happy to ship your locomotive by air
direct to you wherever you live in the world.

UK £4,995.00 (Free shipping)
EU £4,995.00 + £195.00 shipping. Total £5,190.00
USA £4,162.00 + £295.00 shipping. Total £4,457.00
ROW £4,162.00 + £395.00 shipping. Total £4,557.00

UK and EU prices include VAT at 20%
USA and ROW customers may be subject
to duty/tax on importation