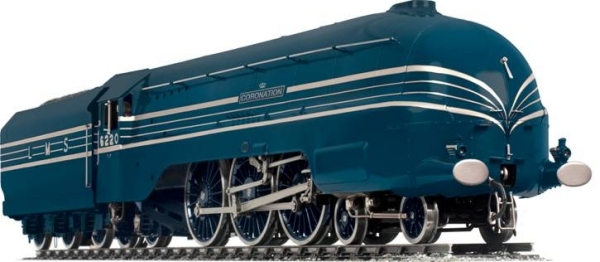 LMS Coronation in Blue/Silver livery
(G3 model shown)

See New Video in Gallery

LMS Coronation Class

On opening the order book for our 5" gauge re-built Coronation Class (Duchess) we have received a number of customer requests to manufacture the locomotive in its original streamlined form. Following discussions with our supplier we are pleased to announce the availability of a very limited number of 5" gauge streamlined Coronation Class models. The streamlined version will be delivered approximately 3 to 4 months after the completion of the re-built (Duchess) version.

The Coronation Class model is built to a near exact scale of 1/11.3.

Each model comes complete with a silver soldered copper boiler, hydraulically tested to twice working pressure. We supply fully compliant certificates for boilers. As testament to our confidence in the models we supply we offer a full 12 months warranty on every product.





LMS Coronation in red/gold livery




(G3 model shown)



Sprung axle boxes with needle roller bearings

Etched brass body with rivet detail

Four working safety valves

Available in choice of names

Painted and ready-to run

Length 81 inches (inc: tender)

Width 10 inches

Height 14 inches

Weight 118 kgs
Summary Specification


5" Gauge

Coal-fired live steam

4 Cylinders

Walschaerts valve gear

Piston valves

Cylinder drains

Mechanical lubricator

Silver soldered copper boiler

Reverser

Boiler feed by axle pump, injector
and hand pump

Stainless steel motion

Delivery and Payment Arrangements.....

The model is priced at £14,995.00.
Save £195.00.
We are pleased to offer free post and packaging for any order received within 28 days.

Delivery and Payment....

As these models are in the final stages of their builds, we would ask for a 50% deposit of £7,497.50 to secure your order. A final payment of £7,497.50 will be requested on completion of the build and in advance of shipping from the supplier.

Order Reservation/Checkout Section

TO PAY DEPOSIT OF £7,497.50 NOW.

You are welcome to make payment by credit/debit card, bank transfer, or cheque.




Prices and Shipping Worldwide

We are happy to ship your model by air
direct to you wherever you live in the world.

UK £14,995 (Free shipping)
EU £12,495 + £395 shipping. Total £12,890
USA £12,495 + £795.00 shipping. Total £13,290
ROW £12,495 + £995.00 shipping. Total £13,490

UK prices include VAT at 20%
EU, USA and ROW customers may be
subject to Duty/Tax on importation.



Request your free brochure today by e-mail, or telephone.

Telephone: 01327 705 259. E-mail: info@silvercrestmodels.co.uk