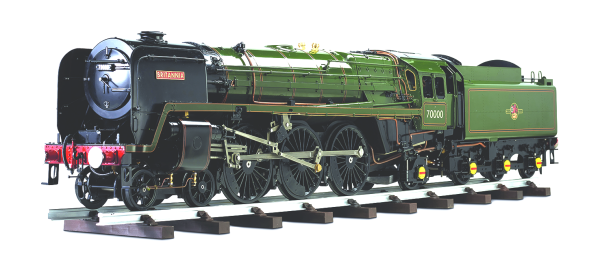 click here to see more pictures

BR Britannia Class

Designed by R. A. Riddles and introduced in 1951 the Britannia Class was the first British Railways standard design to appear. A total of 55 of the Class were all built at Crewe works with the final engine entering traffic in 1954. With just two outside cylinders it was a practical design built for ease of maintenance. In spite of this the locomotive was a handsome and well proportioned design.. A real favourite among railway enthusiasts. With its 74" driving wheels it was an archetypal passenger express and looks at home, at speed, at the head of a long rake of Mk 1 coaches. Allocated to all regions the locomotives remained in service to the very end of the British steam era with 70013 Oliver Cromwell hauling the final scheduled passenger service in 1968.



3.5" BRITANNIA – TEST RUN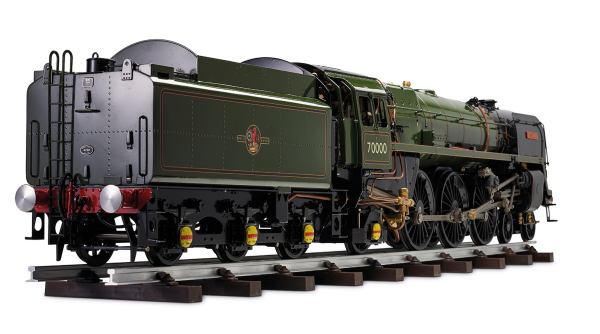 click here to see more pictures

The 3.5" Gauge Model........

The Britannia Class model is built to a near exact scale of 1/16th. Beautifully detailed it is designed to run on 3.5" gauge track and is coal-fired.

Each model comes complete with a silver soldered copper boiler, hydraulically tested to twice working pressure. We supply fully compliant certificates for the boiler . As testament to our confidence in the models we supply we offer a full 12 months warranty on every product.

Build completion is scheduled for May/June 2022.

Request your free 8 page colour brochure today.
E-mail: info@silvercrestmodels.co.uk or telephone 01327 705 259.




3.5" Gauge Britannia Class

Stainless steel motion

Sprung axle boxes with needle roller bearings

Two safety valves

Available in choice of names

Painted and ready-to run

Length 1340mm Width 170mm

Height 250mm Weight 38 kgs
Summary Specification

Coal-fired

2 Outside Cylinders

Walschaerts valve gear

Piston valves

Automatic drain cocks

Mechanical lubricator

Silver soldered copper boiler

Reverser in cab

Boiler feed by axle pump, and hand pump

Etched brass body with rivet detail

Delivery and Payment Arrangements

The model represents excellent value for money at £7,995.00 + £195.00 p&p

You are welcome to confirm your order with a deposit payment of £1,995.00 by credit/debit card, bank transfer, or cheque.

We will then request a stage payment of £2,500.00 in June 2022 as the build of your model progresses, a further payment of £2,500.00 in July 2022 and a final payment of £1,000.00 in August 2022 before delivery.
Save £195.00.
We are pleased to offer free post and packaging for any order received within 28 days.
Order Reservation/Checkout Section

Confirm your order with a deposit payment of £1,995.00 by credit/debit card, bank transfer, or cheque. We will contact you for chosen name of your loco.




Prices and Shipping Worldwide

We are happy to ship your locomotive by air
direct to you wherever you live in the world.

UK £7,995 (Free shipping)
EU £6,662.00 + £195.00 shipping. Total £6,857.50
USA £6,662.50 + £395.00 shipping. Total £7,057.50
ROW £6,662.50 + £595.00 shipping. Total £7,257.50


UK prices include VAT at 20%
EU, USA and ROW customers may be
subject to Duty/Tax on importation.