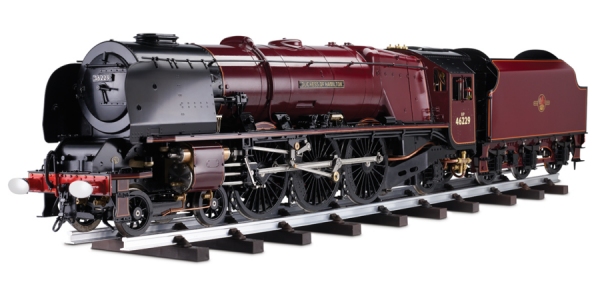 LMS Duchess Class (Click on picture to enlarge)



LMS Duchess Class

Designed by Sir William A. Stanier the first of these magnificent locomotives was built at Crewe in 1937. With a tractive effort of 40,000lb these 4 cylinder locomotives were extremely powerful and can be seen as a response by LMS to the LNER A4's, built less than 2 years earlier. In fact many maintain that if it were not for the storm clouds of World War II gathering that the LMS could have snatched the world speed record for steam from the LNER A4 Mallard.

The first locomotives out of Crewe works were originally built as streamliners. Later some were built without streamlining. All of the streamliners were finally re-built in un-streamlined form, and all eventually featured double chimneys. The model offered here is representative of the class as re-built.

The locomotives were produced in a variety of liveries in BR days including maroon, blue and lined green.



3.5" DUCHESS – PILOT 2 TEST RUN

The 3.5" Gauge Model

3.5" gauge models are built to 1/16th scale and offer a number of advantages over other gauges. It provides the opportunity to own a large express type locomotive at a reasonable size and weight, and the cost is approximately half that of a similar model in 5" gauge. They are easy to transport and an ideal size for display in the home, or office. A majority of clubs have 3.5" tracks and the LMS Duchess is capable of pulling a number of adults with ease.

This 4 cylinder, coal-fired, model comes complete with a silver soldered copper boiler, hydraulically tested to twice working pressure. All are CE marked and supplied with a manufacturer's shell test certificate, and EU Declaration of Conformity. As testament to our confidence in the models we provide a full 12 months warranty on every product. The LMS Duchess model is subject to a limited batch manufacture later this year and order reservations will be accepted on a first come, first served basis.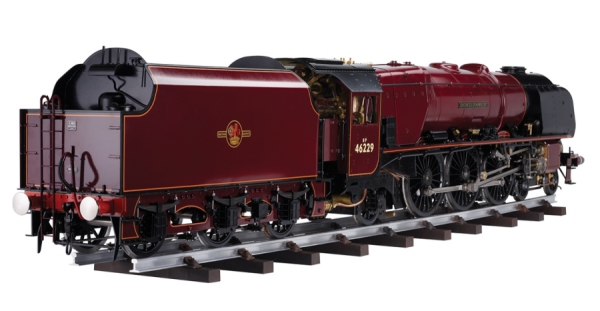 LMS Duchess Class (Click on picture to enlarge)


LMS Duchess

Stainless steel motion

Boiler feed by axle pump, injector, hand pump

Etched brass body with rivet detail

Safety valves

Choice of liveries

Painted and ready-to-run
Summary Specification

Coal-fired live steam

3.5" gauge

4 Cylinder

Piston Valves

Walschaerts valve gear

Silver soldered copper boiler

Drain cocks

Mechanical lubricator

Superheater

Reverser


Once the batch is sold there will be no further production until 2023 at the very earliest. We are pleased to offer a choice of names and liveries.

The 3.5" Duchess is available at the great value price of £7,995.00 + £195.00 p&p.
Save £195.00.
We are pleased to offer free post and packaging for any order received within 28 days.
Delivery and Payment Arrangements

Available for immediate Delivery!

Full payment of £7,995.00 required.

Order Reservation/Checkout Section

To place an order please contact us on 01327 705 259 or email
info@silvercrestmodels.co.uk to discuss names and liveries available.

Prices and Shipping Worldwide

We are happy to ship your locomotive by air
direct to you wherever you live in the world.

UK £7,995 (Free shipping)
EU £7,995.00 + £195.00 shipping. Total £8,190.00
USA £6,662.50 + £395.00 shipping. Total £7,057.50
ROW £6,662.50 + £595.00 shipping. Total £7,257.50

UK and EU prices include VAT at 20%
USA and ROW customers may be subject
to duty/tax on importation.
Request your free brochure today

Request your free brochure today by e-mail or telephone. .

Telephone 01327 705 259 e-mail info@silvercrestmodels.co.uk