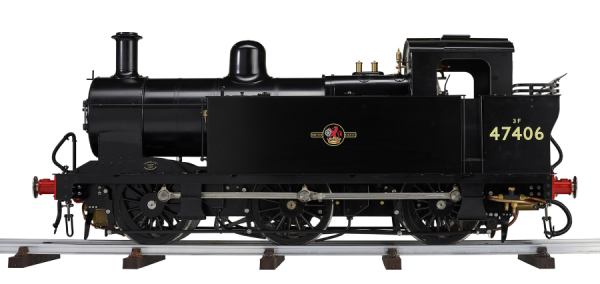 More Pictures / Video in Gallery

The 3F "JINTY"

Some 425 of these locomotives were manufactured between 1924 and 1931. Mainly allocated to shunting and station pilot duties they also undertook occasional branch line work. The "Jinties" were frequently used for banking duties with up to three at a time seen assisting express passenger trains up the Lickey Incline on the Bristol-Birmingham line near Bromsgrove. They were frequently seen banking trains out of London Euston up to Camden - a particularly demanding task!
Designed by Sir Henry Fowler for the London, Midland and Scottish Railway they were based on earlier designs by S&W. Johnson.
Some of the locomotives were loaned to the War Department in WWII, providing welcome logistical support to the allied war effort.
A majority of locomotives enjoyed long service with the final "Jinty" withdrawn in 1967, right at the end of the steam era. The locomotives were always painted in un-lined black livery. Before nationalisation in 1948 LMS initials were carried on the tank sides. In BR service either lion crest was carried according to period.


The 5" Gauge Model.....

We have introduced the "Jinty" to our growing range of models due to requests received from a number of customers who are keen to own one. At just £5,495.00 + shipping this 5" gauge model offers unbeatable value-for-money. The model is coal-fired and its 0-6-0 wheel arrangement provides a powerful locomotive capable of pulling a number of adults. Its ability to negotiate tight curves makes it a perfect candidate for your garden railway. The model is delivered ready-to-run and painted with your choice of LMS lettering, or BR crest. Each is complete with a silver soldered copper boiler, hydraulically tested to twice working pressure. All boilers comply with the latest regulations and are appropriately marked and certificated. The locomotive's compact size makes this an ideal model to display, transport and drive. As testament to our confidence in the high quality of this model we are pleased to offer a full 2 years warranty. Our customer service is considered to be second-to-none.


Approx length 33 inches
3F JINTY

Approx Dimensions

Length 33 inches
Width 9.5 inches
Height 14 inches
Weight 44 kg

Stainless steel motion

Boiler feed by cross head pump, injector,
hand pump

Etched brass body with rivet detail

Summary Specification

Two safety valves

Choice of emblems

Painted and ready-to-run

Coal-fired live steam

5" gauge

2 inside cylinders

Slide valves

Stephenson valve gear

Mechanical drain cock

Mechanical Lubricator

Silver soldered copper boiler

Multi-element Superheater

Reverser

Delivery and Payment....

Save £195.00. FREE p&p for any order received within 28 days.

For orders taken now we would ask for a deposit of just £995.00. We will request an interim payment of £2,000.00 in June 2022 as the build of your model progresses, a further stage payment of £2,000.00 in July and a final payment of £500.00 in August 2022 in advance of delivery.



Order Reservation/Checkout Section

To place your order reservation and pay the deposit of £995.00 now
please use order section below.

You are welcome to make payment by credit/debit card, bank transfer, or cheque.



Prices and Shipping Worldwide

We are happy to ship your model by air
direct to you wherever you live in the world.

UK £5,495.00 (Free shipping)
EU £4,579.00 + £195.00 shipping. Total £4,774.00
USA £4,579.00 + £495.00 shipping. Total £5,074.00
ROW £4,579.00 + £595.00 shipping. Total £5,174.00

UK prices include VAT at 20%
EU, USA and ROW customers may be
subject to Duty/Tax on importation.




Request your free brochure today..

The "Jinty" brochure is in preparation and will be available
by 7th May.

By e-mail: info@silvercrestmodels.co.uk

or call 01327 705 259.