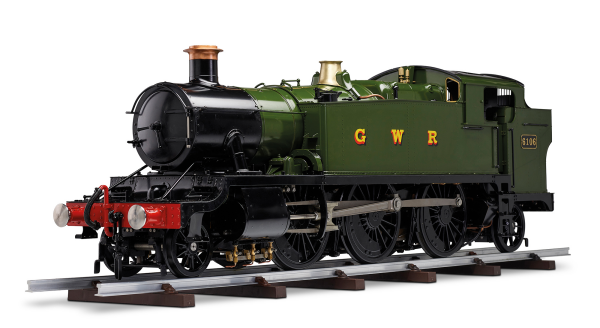 PILOT 1 SHOWN
For more pictures Click Here

GWR 61xx Class...

The 61XX class locomotives were, like many others, developed from earlier designs. Collett's 61XX Class owes its beginnings to locomotive No.99 designed by Churchward in 1903. The 61XX Class were almost identical to the earlier 51XX and later 81XX Class. They did however, have an increased boiler pressure which resulted in a greater tractive effort. The 61XX Locomotives spent their working lives on the Paddington suburban services. They were required to haul heavy trains at quite fast speeds and due to the increased boiler pressure were able to cope well with traffic demands.
In GWR days standard unlined green livery was carried. B.R. applied both lined black and lined green liveries to the class.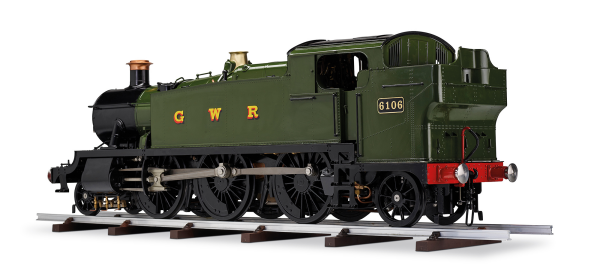 The 5" Gauge Model…

Introducing the 5 inch gauge GWR 61XX to our growing range of live steam locomotives. At just £7,995.00 + shipping this 5" gauge model offers unbeatable value-for-money. The model is coal-fired and provides a powerful locomotive capable of pulling a number of adults. The model is delivered ready-to-run and fully painted, with a choice of either GWR Green, BR Lined Green or BR Lined Black livery. Each is complete with a silver soldered copper boiler, hydraulically tested to twice working pressure. All boilers comply with the latest regulations and are appropriately marked and certificated. The 61xx makes an ideal model to display, transport and drive. As testament to our confidence in the high quality of this model we are pleased to offer a full 12 month warranty. Our customer service is considered to be second-to-none.



Approx length 44 inches

GWR 61xx Class

Approx Dimensions
Length 44 inches
Width 9.5 inches
Height 13.5 inches

Boiler feed by cross head pump, injector,
hand pump

Etched brass body with rivet detail

GW Pattern Double Safety Valves
Summary Specification

Choice of 3 liveries

Painted and ready-to-run

Coal-fired live steam

5" gauge

2 Outside cylinders

Piston valves

Stephenson valve gear

Mechanical drain cock

Mechanical Lubricator

Silver soldered copper boiler

Multi-element Superheater

Pole Reverser


Delivery and Payment Arrangements.....

Save £195.00. FREE p&p if you order within 28 days...

The order book is now open and we are happy to accept your order reservation for a deposit of just £1,995.00.

We will request an interim payment of £2,500.00 in June 2022 as the build of your model progresses, a further stage payment of £2,500.00 in July 2022 and a final payment of £1,000.00 in August/September 2022 in advance of delivery.



Order Reservation/Checkout Section

To place your order reservation and pay the deposit of £1,995.00 now
please use order section below.

You are welcome to make payment by credit/debit
card, bank transfer, or cheque.



Prices and Shipping Worldwide

We are happy to ship your locomotive by air
direct to you wherever you live in the world.

UK £7,995.00 (Free shipping if you order within 28 days)
EU £6,662.50 + £195.00 shipping. Total £6,857.50
USA £6,662.50 + £495.00 shipping. Total £7,157.50
ROW £6,662.50 + £595.00 shipping. Total £7,257.50

UK prices include VAT at 20%
EU, USA and ROW customers may be subject
to duty/tax on importation


Request your free brochure today..

By e-mail: info@silvercrestmodels.co.uk
or call 01327 705 259.