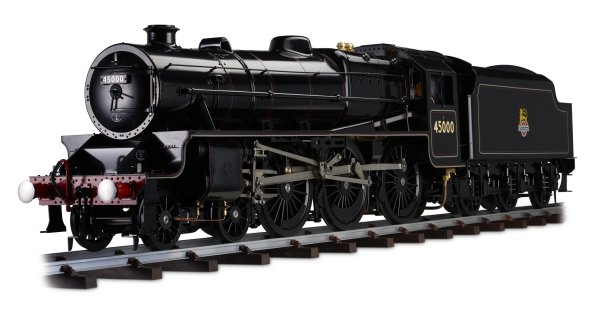 The Ubiquitous "Black 5"

With eight hundred and forty-two of the class built the Class 5's were probably the most widely used steam locomotives ever to run on Britain's railways. They were designed soon after Sir William Stanier took over as Chief Mechanical Engineer and incorporated several GWR features.

Designated as mixed traffic locomotives the Black 5's were equally at home pulling a rake of coaches, or at the head of a freight train. With 6ft diameter driving wheels and a tractive effort of 25,445lbs the Black 5 proved itself a highly capable "go anywhere, do anything" locomotive.

In service the locomotives were always in black livery. In LMS days a thin straw coloured lining was used. In BR service red/white/grey lining was standard. Early, or later BR crests were carried according to period.

The Model.....

The model offers a good level of fine scale detailing and is to a high engineering standard. This combination of appearance and performance is rarely matched by our competitors. Certainly, our value-for-money and after sales service are second-to-none. Each model comes complete with a silver soldered copper boiler, CE marked and hydraulically tested to twice working pressure. We provide a full 12 months warranty with every model so you can buy with confidence.


LMS BLACK 5 4-6-0

Length 71 inches
Height 13 inches
Width 9.5"
Weight (inc tender) 105kg

Coal-fired live steam

Safety valves

Two outside cylinders

Sprung axle boxes with needle roller bearings

Silver soldered copper boiler

Piston Valves
Summary Specification

Walschaerts motion

Mechanical lubricator

Reverser

Tender brake

Etched brass body work with rivet detail

Boiler feed by axle pump, injector, hand pump

Working drain cocks

Stainless steel motion

Multi-element superheater.

Bronze cylinders with steel pistons and valves

Ready-to-run

Fully painted and lined

Choice of liveries

Limited Production Run.....

We have presently reserved capacity for the production of 25 models only. With the Black 5 being such an iconic and popular locomotive we are confident the edition will sell out quickly. It may be possible for us to extend the production run a little, but this cannot be guaranteed and depends on our supplier's capacity.

Early orderers will benefit from the opportunity of choosing the livery and locomotive number of their choice. We will not accept orders for more than 5 models with identical livery and number so you have every chance of owning a truly "one-of-a-kind" model.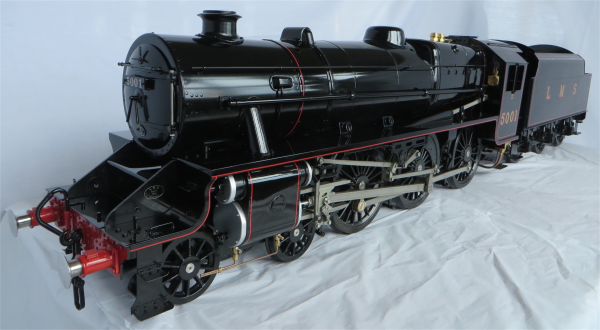 Delivery and Payment....

The model is the subject of a single batch production for delivery by the end of 2020. Once the batch is sold there is unlikely to be any further production until 2024 at the earliest. The model represents excellent value at just £8,995.00 + p&p.

SAVE £195.00. Free delivery on any model ordered within 28 days.

We are happy to accept your order reservation for a deposit of just £1,995.00.

A stage payment of £3,000.00 will be requested at the end of September 2020 as the build of your model progresses, a further £3,000 in November and a final payment of £1,000.00 in advance of delivery.







Request your free brochure today..

By e-mail: info@silvercrestmodels.co.uk

or call 01327 705 259.
Order Reservation/Checkout Section

To place an order reservation and pay the deposit of £1,995.00 now please use the order section here.

You are welcome to make payment by credit/debit card, bank transfer, or cheque.


On receipt of your order we will confirm all details and
give you the opportunity to choose the locomotive number.

Prices and Shipping Worldwide

We are happy to ship your model by air
direct to you wherever you live in the world.

UK £8,995.00 (Free Shipping)
EU £8,995.00 + £395.00 shipping. Total £9,390.00.
USA £7,495.00 + £795.00 shipping. Total £8,290.00
ROW £7,495.00 + £995.00 shipping. Total £8,490.00

UK and EU prices include VAT at 20%

USA and ROW customers may be subject to
duty/tax on importation.