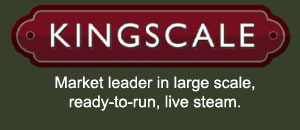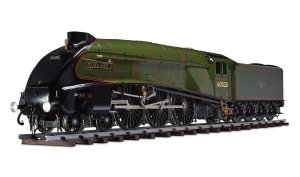 "The Evening Star represents our largest live steam locomotive in 5" gauge to date.
Like the prototype it combines beauty and power and it has been a pleasure to have been involved in the development of this fine engine. As an award winning model engineer I can testify, without hesitation, to the incredible value-for-money offered by this model. You will not be disappointed"


Mike Pavie

Customer testimonial

"I have had several very good outings with the Jubilee. I can now successfully fire the model and keep up steam pressure, what a pleasure. On Sunday I was carrying passengers for around three hours, it certainly does steal the show".

P.H. Wigan



"Thank you very much for all your assistance, I really appreciate it. There is a member at my club who has had a loco from you and says it is fantastic, as is the service he has received from you which has given me great confidence in your company and your models".

M.D. Switzerland
5" GAUGE EVENING STAR/9F

SOLD OUT!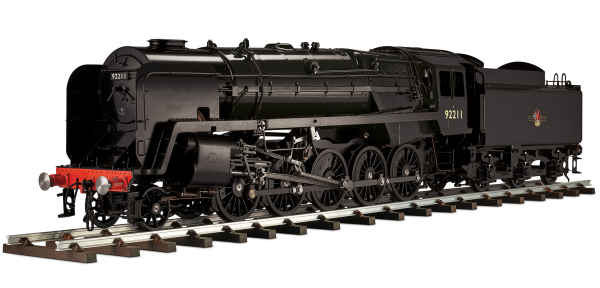 £13,995.00 + p&p.


"Evening Star" and the Twilight of Steam....

The 9F Class represented the last in a series of successful BR Standard Classes designed by R. A. Riddles and his team. This heavy freight locomotive was the consummate performer with a tractive effort approaching 40,000 lbs. First introduced in 1954 the number built ultimately totalled 251 which were allocated to Eastern, London, Midland and Western Regions.

The 2-10-0 wheel arrangement was selected following Riddles success with the wartime Austerity Class. The 9F's were built at the time of British Railways transition from steam to diesel traction and their service lives, as a consequence, were remarkably short. The last of the Class was withdrawn 50 years ago in 1968, the end of the steam era and one we would like to commemorate with this wonderful 5" gauge live steam model. The reason for choosing "Evening Star" as our limited edition commemorative is self-evident. Not only were the 9F's the final steam locomotives built for British Railways, but the they were amongst the last types to be withdrawn. Moreover "Evening Star" is itself singled out as a very special engine in its own right because it was the final steam locomotive to be built for BR. It was decided that such a significant event could pass without fanfare and the engine was given the evocative name "Evening Star" in a ceremony at Swindon Works in March 1960. Unlike the rest of the Class, that had all been out-shopped in BR lined black livery, Evening Star was turned out in the old Swindon tradition of fully lined B.R. passenger green livery with copper capped chimney.






An Exhibition Quality Model Offering Unbeatable Value for Money.........

The "Evening Star" was a real head turner when in service and the model in 5" gauge is no different. It is not only stunning visually, but is also an impressive performer. The 2-10-0 wheel formation is designed to deliver maximum traction and pulling power.

The model is offered at just £13,995.00 + £195.00 and represents incredible value. You would be fortunate to purchase a commercially manufactured boiler, lost wax castings and raw materials for the price you will pay for this fine model, which is delivered to you fully painted and lined and ready-to-run out-of-the-box. If you prefer your 9F to be presented in unlined black livery with the locomotive number of your choice we are happy to provide this option.

Each model comes complete with a silver soldered copper boiler, CE marked and hydraulically tested to twice working pressure. We supply fully compliant certificates and paperwork including an EU Declaration of Conformity. The model is built to a high specification and, due to customer demand, now benefits from a mechanical lubricator in place of the displacement type of previous models. Before final delivery to our customer each model will be subject to an inspection by Mike Pavie including a 1.5 x hydraulic boiler test to ensure there is no leakage from the boiler fittings. The model is also run on air as part of the inspection.

We are as thorough as possible in the development phase and manufacture. Suppliers must agree to adhere to our specially written Quality Standards Manual. As testament to our confidence in the models we supply we offer a full 12 months warranty on every product.

Request your free 8 page colour brochure today.
E-mail: info@silvercrestmodels.co.uk or telephone 01327 705 259.





Evening Star



Sprung axle boxes with needle roller bearings

Etched brass body with rivet detail

Two safety valves

Available in two liveries

Painted and ready-to run
Summary Specification

Coal-fired live steam

2 Outside Cylinders

Walschaerts valve gear

Cast iron cylinder blocks (bronze liners)

Steam operated drain cocks

Mechanical lubricator

Silver soldered copper boiler

Multi-element semi-radiant superheater

Reverser

Boiler feed by axle pump, injector, hand pump

Stainless steel motion and grate

SAVE £195.00. FREE P&P IF YOU ORDER within 28 days






Delivery and Payment Arrangements.....

As the models build is now complete and just awaiting its pre-delivery check, we would ask you to make payment of £13,995.00 in full.

You can pay by credit card, bank transfer, or cheque made payable to "Silver Crest Models Limited"

SOLD OUT!
Prices and Shipping Worldwide

We are happy to ship your locomotive by air
direct to you wherever you live in the world.

UK £13,995.00 (Free Shipping)
EU £11,662.00 + £495.00 shipping. Total £12,157.00
USA £11,662.00 + £895.00 shipping. Total £12,557.00
ROW £11,662.00 + £995.00 shipping. Total £12,657.00


UK prices include VAT at 20%
EU, USA and ROW customers may be
subject to Duty/Tax on importation.