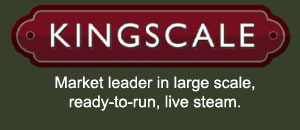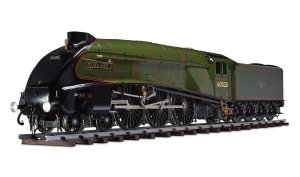 "Along with the GWR Castle Class the King Class is one of the most iconic locomotives ever to grace Britain's railways. The build of a top of the line 4 cylinder Great Western engine certainly presents a number of technical challenges. After 18 months in development we are pleased to announce the batch build of a small number of models.

Available in a choice of names and liveries this 5" gauge locomotive is set to take pride of place in any collection. This is an opportunity not to be missed by the serious GWR enthusiast. As an award winning professional model maker I am delighted to have been involved in this very satisfying project"

Mike Pavie

Customer testimonial

"I'd like to say a big thank you for your quality engines and friendly service. I'm looking forward to receiving my 3rd locomotive from you!"

M R – Nottingham
GWR KING CLASS


King Class available in GWR, or BR, liveries

NEW LOW PRICE £11,994.00 + £195.00 p&p
(SAVE OVER £3,000.00!)

JUST 5 MODELS AVAILABLE!

We aim to provide live steam enthusiasts with the best possible value and have managed to negotiate a special cost price reduction with our supplier on this superb 4 cylinder model. On the next 10 orders received we can offer a massive £3,000.00 discount. Order now! Don't miss out...

For NEW VIDEO & more pictures Click Here

The GWR King Class...

Designed by C.B.Collett the King Class was introduced in 1927. Regional railway companies were very conscious of their image and actively sought to win the publicity war against their rivals. The introduction of the King, with its 40,000lb tractive effort, allowed GWR to trumpet once again that they possessed the most powerful locomotives in Britain. During development Chief Mechanical Engineer Collett requested an increase in the 20 to axle loading limit to 22.5 tons so that he could build a larger engine. This was agreed and work was commenced by the Civil Engineer to strengthen bridges along the West of England line. The weight of the King did, however, initially restrict it to just three routes, Paddington/Plymouth, Paddington/Bristol and Paddington/Birmingham. Additional routes were added in BR days. The Kings always headed the most prestigious trains until their withdrawal in 1962. A variety of liveries were carried including GWR green, BR blue and BR lined green.

The Model…

Silver Crest Models has been building large scale live steam models since its formation in 2010. By the time the King is delivered we will have manufactured over 600 models in 5" gauge. This experience is your guarantee of quality.

At our new low price of just £9,995.00 + VAT the model represents outstanding value-for-money. You would be hard pushed to find a second-hand model built by a private builder at less than twice the price we are asking for a brand new King Class. The model is fully guaranteed and is supplied with a 12 months warranty. Whether you are inclined to collect and showcase your models, or drive them, the King Class fits the bill. It is a handsome display model and one capable of pulling substantial loads around your local club track.

The model comes complete with a silver soldered copper boiler, hydraulically tested to twice working pressure. All boilers will be UKCA marked and supplied with a manufacturer's shell test certificate. As testament to our confidence in the models we provide a full 12 months warranty on every product. We've presently booked sufficient factory capacity for the manufacture of just 25 models. Order reservations will be accepted on a first come, first served basis. We are pleased to offer a choice of names and liveries.



Approx length 73 inches

GWR 61xx Class

Approx Dimensions
Length 73 inches
Width 10 inches
Height 13 inches
Weight 97 kg


Stainless steel motion

Boiler feed by axle pump, injector, hand pump

Etched brass body with rivet detail


Summary Specification

GWR Pattern Safety valves

Choice of liveries

Painted and ready-to-run

Reverser

Coal-fired live steam

5" gauge

4 Cylinder

Piston Valves

Walschaerts valve gear

Drain cocks

Mechanical Lubricator

Silver soldered copper boiler

Multi-element Superheater



Delivery and Payment Arrangements.....

Save £195.00. FREE p&p if you order within 28 days...

The order book is now open and we are happy to accept your order reservation for a deposit of just £1,995.00.

We will request an interim payment of £4,500 in June 2022 as the build of your model progresses, a further stage payment of £4,500 in August 2022 and a final payment of £999 in September 2022 in advance of shipping from our supplier.





Request your brochure today by e-mail, or telephone.
info@silvercrestmodels.co.uk 01327 705 259
The GWR King Class brochure is in preparation and will be available by 21st November.
Order Reservation/Checkout Section

To place your order reservation and pay the deposit of £1,995.00 now
please use order section below.

You are welcome to make payment by credit/debit
card, bank transfer, or cheque.



Prices and Shipping Worldwide

We are happy to ship your locomotive by air
direct to you wherever you live in the world.

UK £11,994.00 (Free shipping)
EU £9,995 + £395.00 shipping. Total £10,190.00
USA £9,995.00 + £1,495.00 shipping. Total £11,490.00
ROW £9,995.00 + £1,995.00 shipping. Total £11,990.00

UK price includes VAT at 20%
EU, USA and ROW customers may be subject
to duty/tax on importation