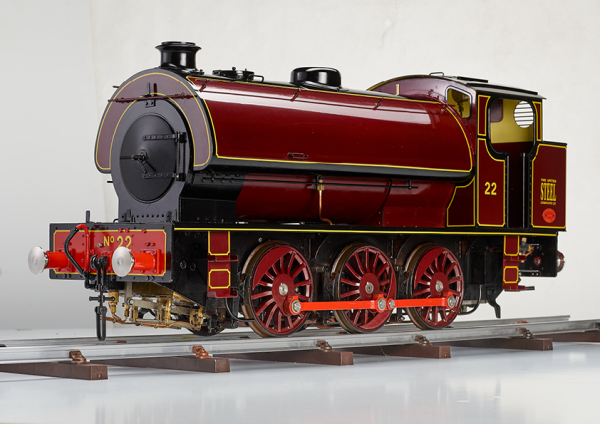 Pre-production model shown

NEW - See Video and Larger Pictures

The J94 "Austerity"

These locomotives were designed for the British Government during WWII. The first, of the 377 built by 1947, was introduced in January 1943. Manufacture to this design continued through to 1962, primarily for private by users such as the National Coal Board (NCB).

The loco's were spread all around the LNER network. Its 0-6-0 wheel arrangement provided a locomotive which could negotiate tight curves, eminently suited to use on mining sites, factories and dock working. A few of the locomotives entered BR service, but the majority were purchased privately for industrial use. A number are in preservation and appear in a variety of particularly attractive liveries.


The Model.....

Our 5" gauge model is coal fired and features two inside cylinders. It is available ready-to-run and comes complete with a silver soldered copper boiler hydraulically tested to twice the working pressure of 90 psi. The model has an overall length of 33 inches and weighs approximately 45 kg.

It is available in maroon, blue, green and umber liveries.


J94 "Austerity"

Approx dimensions


Length 840mm
Width 220mm
Height 360mm
Weight 44kg

Coal-fired

Silver Soldered Copper Boiler

Summary Specification
Drain cocks

Reverser

Safety valves

Two inside Cylinders

Etched Brass body

Mechanical Lubricator

Axle pump

Injector

Hand Pump

Stainless steel motion

Fully painted

Ready-to-run

12 Months Warranty

Choice of Liveries

Limited Production Run.....

We have booked factory capacity for the manufacture of just 50 locomotives with completion planned for August 2021.

Save £195.00. FREE p&p for any order received within 28 days.
NEW - See Video and Larger Pictures

Delivery and Payment....

You can reserve your model now for a deposit of just £995.00.

We will request an interim payment of £1,750.00 in September 2021 as the build of your model progresses, a further stage payment of £1,750.00 in October and a final payment of £500.00 in Nov 2021 in advance of delivery.






Request your free brochure today..

By e-mail: info@silvercrestmodels.co.uk

or call 01327 705 259.
Order Reservation/Checkout Section

To place your order reservation and pay the deposit of £995.00 now
please use order section below.

You are welcome to make payment by credit/debit card, bank transfer, or cheque.






Prices and Shipping Worldwide

We are happy to ship your locomotive by air
direct to you wherever you live in the world.

UK £4,995.00 (Free shipping)
EU £4,162.00 + £195.00 shipping. Total £4,357.00.
USA £4,162.00 + £395.00 shipping. Total £4,557.00.
ROW £4,162.00 + £495.00 shipping. Total £4,657.00.

UK prices include VAT at 20%
EU, USA and ROW customers may be
subject to Duty/Tax on importation.