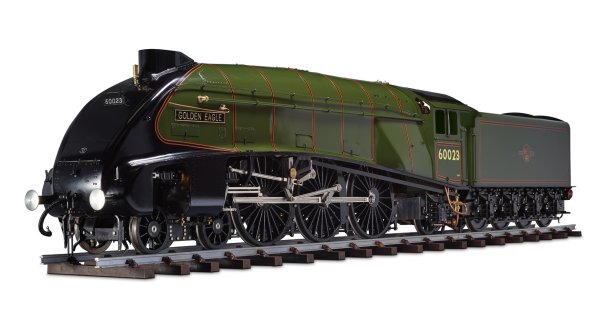 5" Gauge LNER A4 (Pilot model shown)


History..

In 1935 the LNER decided to introduce a new streamlined train to run London to Edinburgh. Designed by Nigel Gresley the locomotive was a development of the Class A3 Pacific, but with increased boiler pressure and slightly reduced cylinder size. In common with the A3 the A4 was a three cylinder design.

Famously, on 3rd July 1938 No, 4468 "Mallard" reached a world record speed for steam traction of 126mph. A record that stands to this day. But the locomotives were workhorses too. In World War II the A4's were often seen hauling 700 ton trains. At this time the side valances were removed to facilitate ease of maintenance. 35 of the Class were built between 1935 and 1938.

The first four locomotives received two-tone grey livery for hauling the "Silver Jubilee" train. Members of the Class went on to carry LNER apple green, garter blue, black, and finally BR lined green. The last of the Class was withdrawn in 1966.


The Model..

This superb 5" gauge model has been designed using works drawings. We are fortunate that Mike Pavie, our consultant engineer, had made extensive study of the locomotive's complex streamlined casing when producing an A4 locomotive for a private client in 2006. As a result of Mike's guidance we are delighted to present this fine 3-cylinder live steam model for 5" gauge that will take pride of place in any collection.

This coal-fired model features three cylinders with Gresley conjugating gear. The copper boiler is silver soldered and hydraulically tested to twice working pressure. The body casing is assembled using etched brass sheet. A number of process improvements have been incorporated to ensure the highest possible quality standards, to include wire cut valve gear and tighter machining tolerances. As testament to our confidence each locomotive will be supplied with a full 12 months warranty. Our after sales service is second-to-none.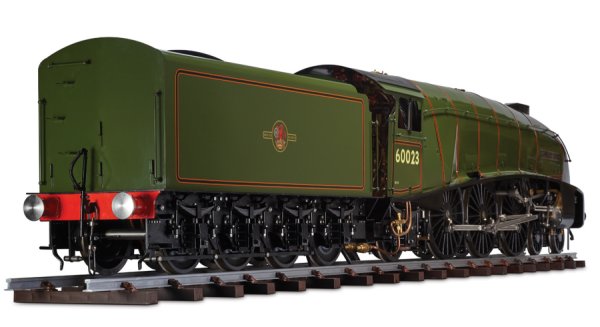 Length approx 75"



Sprung axle boxes with needle roller bearings

Piston valves

Mechanical lubricator

Outside Walschaerts valve gear

Multi-element superheater

Choice of liveries

Choice of name and number

Fully painted and lined

Ready-to-run
Summary Specification

Coal-fired live steam

Silver soldered copper boiler

Reverser

Etched brass casing

Working drain cocks

Stainless steel motion

Safety valves

3 cylinders
(inside cylinder with Gresley Holcroft conjugating gear)

Boiler feed by axle pump, injector, hand pump

Bronze cylinders with stainless steel pistons and valves

Limited production..

The LNER A4 will be the subject of a single batch production with completion planned for September 2020. Once the batch is sold there will be no further deliveries of this model for a number of years.

This is a complex model and we have presently booked sufficient factory capacity for the production of just 20 models. If orders are received quickly it may be possible to extend the run a little, but this cannot be guaranteed because of the scheduling of other products (and we have a growing number!).

The 5" gauge A4 is available in a number of liveries, with or without, side valances, and early orderers can have their choice of name and number.

The model is available at the great value for money price of £14,995.00 + post and packaging.


Delivery and Payment..
| | |
| --- | --- |
| Save £195.00. Free p&p for any order received within 28 days. | |
The models are complete and ready for shipping from our supplier. You can reserve your model with a deposit of £7,497.50 (50%). The balance of £7,497.50 will be requested just before delivery.

Please note the model is supplied with a double chimney and a non-corridor tender. You can choose to receive the model with, or without, wheel valances. We will request your choice of name and livery once your order reservation is received.

SOLD OUT
Prices and Shipping Worldwide

We are happy to ship your locomotive by air
direct to you wherever you live in the world.

UK £14,995.00 (Free shipping)
EU £12,495.00 + £395.00 shipping. Total £12,890.00
USA £12,495.00 + £795.00 shipping. Total £13,290.00
ROW £12,495.00 + £995.00 shipping. Total ££13,490.00

UK prices include VAT at 20%
EU, USA and ROW customers may be
subject to Duty/Tax on importation.


Request your free brochure today

Request your free brochure today by e-mail or telephone.

Telephone: 01327 705 259
E-mail: info@silvercrestmodels.co.uk