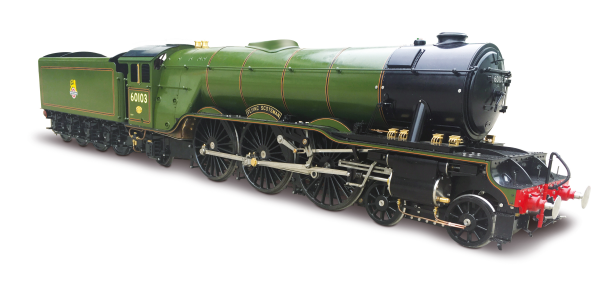 (ALSO AVAILABLE WITH SMOKE DEFLECTORS & DOUBLE CHIMNEY)

The LNER A3

The A3's were a development of the earlier A1 Class under the direction of Sir Nigel Gresley. He designed the new Pacifics to haul 600 ton trains. 51 of the locomotives originally designated as A1 were converted to the new A3 classification with increased boiler pressure and new cylinders.

27 new locomotives were built to the A3 standard. Thus, a total of 78 A3 Class engines were in service. All locomotives received double chimneys by 1960 and subsequently most were fitted with German style "trough" smoke deflectors following complaints from drivers in respect to poor visibility. 4472 was the first steam locomotive to be officially recorded at 100 mph.

The A3's saw service over most parts of the LNER system. The final locomotive, 60052 was withdrawn in 1966. Before the war the A3's were painted in LNER green livery, but carried unlined black 1939-45. They were re-painted in LNER green following the war. A majority of locomotives then carried BR blue livery before all were re-painted in BR brunswick green with orange/black lining. Early, or later, lion crests were carried according to period.


The Model...

This coal-fired model features three cylinders and outside Walschaerts valve gear. The copper boiler is silver soldered and hydraulically tested to twice working pressure, CE and UKCA marked. The body casing is assembled using etched brass sheet. The development of this model has been supervised by our award winning professional engineer Mike Pavie and the batch is being built by the same manufacturer who supplied our much acclaimed Coronation Class locomotive.

The A3 Class model is supplied fully built and ready-to-run, painted and lined in either LNER green, or BR lined green. We will supply your choice of nameplate. As testament to our confidence in the quality of this model each locomotive will be supplied with a full 12 months warranty. All models will be subject to a pre-delivery inspection and boiler test. Our after sales service is considered by customers to be second-to-none.


Dimensions:
Length 74"
Height 14"
Width 9.5"
Weight 105 kg

Coal-fired live steam

Silver soldered copper boiler

Reverser

Etched brass bodywork

Working drain cocks

Stainless steel motion


Summary Specification

Safety valves

3 cylinders

Boiler feed by axle pump, injector, hand pump

Bronze cylinders with stainless steel pistons and valves

Sprung axle boxes with needle roller bearings

Piston valves

Mechanical lubricator

Outside Walschaerts valve gear

Multi-element superheater

Choice of liveries

Choice of nameplate

Fully painted and lined
Ready-to-run
Limited Availability.

We have reserved factory capacity for the manufacture of just 25 models. We may be able to increase this a little, but cannot guarantee additional stock availability. Once the batch is completed it is unlikely we will commission further production of the A3 Class for a number of years, if at all. The model is scheduled to complete its build in April 2023.

Free p&p worth £195.00 if you order early

We will offer free p&p on any order placed within 28 days as a thank you for your early order.


Payment and Delivery Arrangements

The order book is now open and you can reserve your model now for a deposit of just £1,995.00. We will request an interim payment of £5,000 in September 2022 as the build of your model progresses, a further stage payment of £5,000 in January 2023 and a final payment of £3,000 on build completion.

SAVE £195.00. FREE P&P IF YOU ORDER within 28 days



Order Reservation/Checkout Section

To place your order reservation and pay the deposit of £1,995.00 now
please use order section below.

You are welcome to make payment by credit/debit card, bank transfer, or cheque.



On receipt of your deposit we will contact you to confirm the locomotive nameplate
of your choice.

Prices and Shipping Worldwide

We are happy to ship your locomotive by air
direct to you wherever you live in the world.

UK £14,995.00 (Free shipping)
EU £12,495.00 + £395.00 shipping. Total £12,890.00
USA £12,495.00 + £1,495.00 shipping. Total £13,990.00
ROW £12,495.00 + £1,995.00 shipping. Total £14,490.00

UK price includes VAT at 20%
EU, USA and ROW customers may be subject
to duty/tax on importation



Request your brochure today by e-mail, or telephone.

E-mail: info@silvercrestmodels.co.uk
01327 705 259

The LNER A3 brochure is in preparation and will be available shortly